Bind & Eliminate Unwanted Oil for Trimmer Figure & Better Health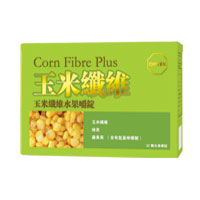 No more expanding waistline! No more worrying about the negative effects that oil can have on your heart!
Just take a delicious Corn Fiber Plus chewable tablet with every oily meal!
Made of 100% natural food ingredients and 100% free of laxatives & slimming adulterants. Corn Fibre Plus offers a healthy yet effective fat fighting solution for more successful weight management and better health. Furthermore, unlike drugs, it does not cause oily spotting or gas with discharge!
Corn Fiber attracts fat, soaks it up like a sponge and holds it tightly to flush it out of the body. More effective than chitosan in oil-binding capacity, and unlike chitosan, corn fibre is suitable even for those with seafood allergies and for vegetarians.
Directions for Use:
Take 1 tablet before, during or within 30 minutes after a heavy or oily meal.
Caution:
Not suitable for pregnant women and children below 8 years old.
Storage:
Keep in dry, cool place. Avoid direct exposure to sunlight.
Nutritional Facts
Serving size: 1 tablet (800mg)Servings per box: 32

¨Per 800mg

Energy

3.33 kcal

(13.93kJ)

Protein

13.3 mg

Total Fat

0.00mg

Saturated Fat

0.00 mg

Monounsaturated Fat

0.00 mg

Polyunsaturated Fat

0.00 mg

Trans Fatty Acid

0.00 mg

Carbohydrate

733.6 mg

Sugars

25.0 mg

Sodium

0.88 mg
Ingredients
Corn Fibre, Orange Powder (containing Vitamin C), Sucrose, Lactose, Green Tea, Garcinia Cambogia (containing 500mg HCA)
Product of Taiwan